The Blue Grotto
A guide to visiting the Grotta Azzurra (Blue Grotto) of Capri
Capri guide
Intro
See
Hike
Swim
Shop
Stay
Eat
Planning FAQ
Tourist info
Get to Capri
Get around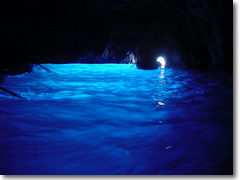 Inside the Blue Grotto of Capri. (Photo by Arnaud Gaillard)Capri's biggest claim to fame is this long, low sea cavern whose water glows a brilliant, unearthly blue from the effect of light refracting through an entrance tunnel.
Be warned: the scandalous wallet-gouging admission only gets you a quick three-minute row through, the walls echoing unromantically with a half dozen boatfuls of oohing, ahhing tourists and their oarsmen spewing out facts (occasionally true ones) or, even worse, attempting to sing.
That tunnel in one of the cave's walls that they often point out, usually claiming that it is connected with a villa of Tiberius above, is actually a natural fissure that leads nowhere (though the Roman villa above did use the cave as a nymphaeum, and several statues were discovered at the bottom.)

The tight squeeze through the entrance to Capri's Grotta Azzurra, or Blue GrottoYou can save a bit of money by busing or walking to the grotto entrance from Anacapri and just forking over for the boat into the caves.
Hardy souls sometimes buddy up and swim in, but be extremely careful: there's a strong undertow and only a few feet of clearance in the entrance tunnel (actually, sometimes there's not even that), and the boatmen don't leave much room between them to slip through (plus, they'll scream at you, pretending it's illegal to swim in).
Don't even try to go until after the boatmen leave around 5:30pm, and only attempt it when the seas are extraordinarily placid. Trust me on this one; I've done it before.
How to get to the Blue Grotto
By boat: Several boats leave from the docks at Marina Grande. They charge €12 for the ride out to the Blue Grotto and back—though, in pont of fact, it ends up costing you a total of €23.50, since the rowboat ride in and around the grotto is a separate concession (€7.50), plus there's a €4 Blue Grotto entrance ticket. (If you want a ride around the entire island plus a Blue Grotto stop, the price is €26.50, and the total trip takes 1:45.)
By bus: The bus (€1.40 each way) from Anacapri's Viale De Tommaso to the Grotta Azzurra takes about 15 minutes. It will then cost you €11.50 to get into the Blue Grotto (€7.50 for the rowboat, another €4 for the entrance ticket).
On Foot: From Anacapri, you can walk to the Blue Grotto in about 50 minutes. From Piazza Vittoria, follow Via Pagliaro, then Via Tuoro to Via Grotta Azzurra. Again, it will cost you €11.50 to get into the Blue Grotto (€7.50 for the rowboat, another €4 for the entrance ticket).
Related pages
This article was written by Reid Bramblett and was last updated in March 2011. All information was accurate at the time.

about | contact | faq

» THE REIDSITALY.COM DIFFERENCE «

Copyright © 2008–2013 by Reid Bramblett. Author: Reid Bramblett